Setting Up Your Online Workers' Compensation Account With Sedgwick: A Step By Step Guide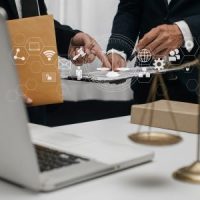 If you have an accepted Georgia workers' compensation claim being managed by Sedgwick CMS and are receiving weekly workers' compensation checks, you can create an online account at www.mysedgwick.com. Once you have an account set up you will be able to access information about your claim, including the dates and amounts of the most recent weekly TTD checks that have been issued. This post will walk you through how to set up your account. The first step is to go to the website: www.mysedgwick.com.
Once at the website, you will be prompted to enter your username and password. If you do not already have a username and password click on "New User." You will then be prompted to enter your claim number. If you have previously received correspondence from Sedgwick, your claim number should be listed there. If you do not have a claim number you can call Sedgwick and they will be able to give it to you.
Once you enter your claim number, the next screen will ask you to enter your first and last name, date of birth, personal email address, cell phone number, the last 4 digits of your social security number, and your zip code.
On the next screen, you will have to choose a username and password. You will also need to create several security questions and answers. Sedgwick will then send a verification code to your email address and cell phone. Once you enter the verification code, your registration is complete. You can then use your username and login to enter the portal at www.mysedgwick.com.
Once there you can access a lot of useful information. You can see the amount and dates of checks that have been issued. You can also see information regarding your pharmacy benefit card.
The Payments section provides a summary of the most recent payments made or scheduled on your claim within the past ninety (90) days. This includes gross payment information as well as all offsets and deductions known to Sedgwick. The default is set to view the benefit payments for time lost from work. To see medical payments, select the medical option.
Although using this portal can be helpful, especially when checking the status of issued checks, it is not perfect. You may still have many questions about your Sedgwick workers' compensation claim that are not addressed or answered on this website. And, as with any workers' compensation insurance company or third party administrator (TPA) it can often be difficult to get someone on the phone to answer your questions.
If you have a Georgia workers' compensation claim and are having trouble getting answers to your questions feel free to reach out to the attorneys at the O'Connell Law Firm. You can reach us at 404-410-0034 to set up a free consultation today.