Toccoa, Georgia Worker Tragically Injured Before Christmas, Brutality Of Workplace Accidents Underscored After Crushing Accident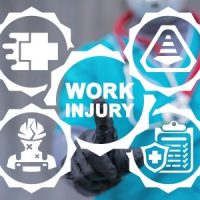 Every year, December can fly by in the blink of an eye. With the stresses of the holidays, influx of family visits and workplace Christmas and holiday parties, increased need to shop, and pressure to get the right gift, many Georgians find themselves coming up for air in January, after the dust has settled. In addition, the end-of-the-year holidays, such as Christmas, can add financial stress for many working Georgian families, leading some parents to take on extra jobs for extra cash for holiday gifting. Sometimes, however, unfortunately, taking on extra hours or a little part-time work can lead to terrible and unexpected accidents. Such was the case for a Toccoa, Georgia, man who suffered a terrible and horrific workplace injury in early December last year.
According to the Toccoa Record, Zachary Johnson, a 40-year-old employee of the City of Toccoa decided to work some overtime to make some extra money for a special Christmas for his three young daughters. Mr. Johnson was working at a Toccoa City recycling bailer—an industrial machine meant for compacting recyclable materials into blocks for transport or storage – when the bailer crushed both of his feet. Mr. Johnson was apparently able to crawl his way to the front of the facility where he was working and was able to call emergency services after the accident. He was flown to Northeast Georgia Medical Center for treatment, but, unfortunately, the accident took both of his feet, which, ultimately, had to be amputated. After Mr. Johnson's feet were amputated, he underwent a second amputation surgery of both of his legs below the knees so that he could be fitted for prosthetics. Regarding the tragedy, Mr. Johnson said, "My only concern was that my three daughters had a good Christmas." Mr. Johnson was not yet eligible for health insurance, as a recent employee of the city. He filed for Georgia workers' compensation benefits.
Claiming Workers' Compensation Benefits in Decatur, Georgia
Some workplace accidents are especially brutal, like the one suffered by Mr. Johnson. Some workplace accidents have not so extreme facts and circumstances, but render a worker unable to work their job nonetheless. In Decatur, and throughout Georgia, most workers like Mr. Johnson are entitled to workers' compensation benefits if they are injured and are unable to do their work (and even if they are not yet eligible for health insurance through their employer). In order to claim workers' compensation benefits in Decatur, workers must go through the workers' compensation process, which can be complex and difficult to navigate. For this reason, it is best for an injured worker in Decatur to contact an experienced Decatur workers' compensation lawyer, in order to learn about their eligibility and their rights and options under Georgia workers' compensation laws.
If you have been injured on the job in Decatur and are unable to work, contact the experienced Decatur workers' compensation lawyers at the O'Connell Law Firm. The Decatur workers' compensation lawyers at the O'Connell Law Firm offer a free and confidential consultation to learn about your case. Contact the O'Connell Law Firm today and learn about your rights to workers' compensation benefits in Decatur for free.
Source:
thetoccoarecord.com/local-news/toccoa-worker-suffers-brutal-injury-accident