Georgia, North Carolina Attempt To Increase Protections For First Responders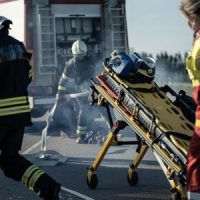 Two Southern states, including our own, announced that they will be attempting to provide improved benefits to first responders who are injured due to toxic exposure, cancer, and psychiatric conditions. Many states have supplemental insurance policies for firefighters and others who are exposed to toxic substances and get cancer. In some cases, the workers' compensation policies don't cover these claims or claimants have to fight much harder than they should. In North Carolina, the issue was broached after the number of cancer filings tripled last year.
In Georgia, a new bill will make it easier for first responders to file claims for psychiatric conditions suffered while on the job. PTSD is common among those who work in dangerous professions or suffer traumatic incidents. However, Georgia law makes it impossible to file a claim on these injuries unless there is a co-occurring physical injury. Police who suffer PTSD related to killing a suspect or the loss of a comrade cannot file claims under the current law. The new legislation would make these types of claims compensable. The bill would apply to first responders, firefights, EMTs, corrections officers, and police officers. As of right now, HB 855 has been assigned to a committee. Passage of the law may not occur until the next session, if ever.
The importance of compensating psychological injuries 
There are no physical injuries that don't leave psychological scars. It's also true, however, that there are no psychological injuries that don't leave scars on the body. When we think of "mental" conditions like depression and anxiety, we're actually talking about a number of physiological effects. Depression, for instance, is not similar to being sad. It's a lack of energy in the brain. It's sort of like your battery is dying. Meanwhile, anxiety can cause your heart to race, your muscles to tense, your breathing to become more erratic and all of these symptoms add up over time to blood pressure problems, heart problems, and more.
PTSD, much like the aforementioned conditions, can cause sleeplessness, anxiety, panic attacks, all of which have real physiological symptoms. However, the Georgia workers' compensation system statutorily denies these claims on the basis that there is no physical injury.
For obvious reasons, the proposed new law is a patch on the existing workers' compensation statute that says that any injury that occurred while you were on the job is compensable. However, insurance companies and the employers who purchase workers' compensation policies have battled hard to get psychological injuries removed from the list of compensable injuries. Now, it's affecting our first responders and our law enforcement officers.  We need to update Georgia workers' compensation law to ensure psychological injuries are covered.
Talk to a Georgia Workers Compensation Attorney Today 
O'Connell Law Firm represents the interests of injured workers in workers' compensation claims. Call our Decatur workers' compensation attorneys today to schedule a free consultation and learn more about how we can help.
Resource:
insurancejournal.com/news/southeast/2021/11/30/643723.htm