Mental Health Injuries And Workers' Compensation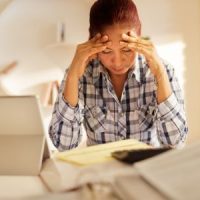 Those who are abused by others within their workplace have a remedy to file a civil rights lawsuit so long as the abuse was related to a protected characteristic like race, age, gender, or disability. But what about mental health or psychological injuries that occur just because your job is very stressful? What if something traumatic happens to you within the context of your job?
Recently, a nitrogen leak at a Georgia food processing plant led to the deaths of 6 workers and serious injuries to eleven more. While the families of the 6 workers are currently pursuing a lawsuit against a third-party company that installed the defective refrigeration unit responsible for the accident, they are also seeking recovery under Georgia's workers' compensation system. But what about the other employees who suffered watching their comrades die? Can they recover for psychological injuries? In this article, we'll discuss psychological injuries and workers' compensation.
What are the rules for recovering for psychological injury? 
The major impediment to recovering workers' comp benefits for a psychological injury is that you have to prove that the injury was caused by your employment. Simple stress related to your job is not enough although, conditions related to stress such as high blood pressure can cause injuries down the road. Stress alone isn't enough, however.
In the aforementioned example, a traumatic incident occurred claiming the lives of 6 people and leaving the lives of 11 others uncertain. Employees who bore witness to that day now have the fear of perhaps losing their own lives. They may be suffering from PTSD after watching their coworkers die. They may have friendships with these workers. They may be friends outside of work. They may be grieving along with the many families who lost a loved one that day.
Types of compensable psychological claims 
Georgia law does not recognize pure psychological injuries as compensable claims.  To have a compensable psychological injury in Georgia, there must be a physical injury which causes the psychological injury.
Talk to a Decatur, GA Workers' Compensation Attorney 
If you've been injured on the job, but your employer doesn't want to pay benefits that you're owed, call the Decatur workers' compensation lawyers at The O'Connell Law Firm, LLC today to schedule a free consultation and learn about how we can help.
Resource:
nbcnews.com/news/latino/victims-families-file-lawsuit-nitrogen-leak-killed-six-georgia-plant-n1258563