Oregon Sets The Standard For Heat In Workplaces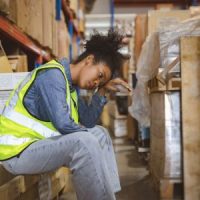 A recent news article discussed the death of an Amazon worker in New Jersey. The 42-year-old worker died of a heart attack while on the job in a warehouse that was not air-conditioned. The death occurred during Amazon's Prime Day sales rush. Amazon says the death was related to a personal medical condition but others believe that the conditions in the warehouse prove that Amazon workers are more at risk than other warehouse workers.
The problem of heat over the summer in warehouses is well-known. Other states, such as Oregon, have placed strong rules into effect to prevent workplace injuries and deaths from occurring due to heat stroke. These rules hope to prevent workplace deaths and injuries and are among the strongest in the nation. Nonetheless, the new rules do not require Oregon warehouse operators to provide air conditioning to employees. They only force non-airconditioned workplaces to abide by certain standards that allow workers to cool down.
The matter became urgent after Oregon hit uncharacteristic highs of over 100 degrees. But even after Oregon OSHA implemented the new rules, some workers say they still labor in unsafe conditions.
Analyzing the rules 
If the inside of a warehouse goes over 80 degrees, then an employer is required to provide shaded areas to workers, cold water, and additional rest breaks to cool down. The new rules will also require employers to provide heat illness prevention training. But one Oregon worker said that they have not seen any of the aforementioned changes in their workplace even after pointing out the new rules to their employer.
Unfortunately, there are no workplace violation police. OSHA usually becomes involved in a situation after someone has been killed or a major incident has taken place. OSHA then levies fines and forces compliance, but only after something terrible has happened. OSHA does not go out of its way to police businesses that are not in compliance. In this case, a worker reported the issue and OSHA said that they will open up an investigation. Since the rules are new, OSHA is conducting inspections of cites that workers report as not being in compliance.
One company under fire claims that they have installed cooling systems, keep track of the temperature, provide water bottles on ice, provide cooling towels, and give their workers frozen treats.
Why Oregon? 
Oregon is experiencing climate issues and last year, a "heat dome event" caused the deaths of at least 100 people statewide. Four of those individuals were working at the time of their deaths. Those deaths were reported to Oregon OSHA which responded by passing the new measures. OSHA has issued 9 citations to companies not following the rules. Oregon and the Pacific Northwest have experienced unprecedented highs over the past couple of years.
Talk to a Decatur, GA Workers' Compensation Attorney 
If you have been injured due to overheating on the job, you are entitled to recover workers' compensation. Call the Decatur workers' compensation lawyers at The O'Connell Law Firm today to schedule a free consultation and we can begin discussing your next steps immediately.
Source:
opb.org/article/2022/07/29/heat-wave-tests-new-oregon-workplace-safety-rules/