Lack Of Safety Guards, Hole In Floor Cited After Worker Death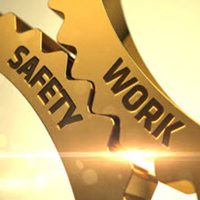 OSHA has leveled fines against an industrial factory to the tune of just under $15,000 after a worker became trapped inside of a machine and died. The worker had reached into the machine for an unknown reason and became trapped. Because the worker was in a secluded section of the factory, he could have been there for as long as 15 minutes before anyone spotted him.
The worker was eventually dislodged from the machine and EMTs were able to get his heart beating again, but he died two days later from his injuries.
Three violations 
OSHA cited the company for three violations. The first violation was the lack of a sign warning workers against reaching into operating machinery. The second violation was a giant hole in the floor that presented a tripping hazard near dangerous machinery. The third violation was a lack of safety guards preventing workers from reaching into the machine or activating a kill switch when the safety guards were opened. As of the writing of this article, the hole is gone, the signs are up, and the company is working alongside OSHA to get safety guards onto the machines.
The company had previously been cited by OSHA for failing to provide proper training to employees and again, a lack of safety guards on machines.
Workers' compensation 
The family of the slain worker will be able to file a death benefits claim with his employer's insurer to recover death benefits. However, in a case like this, the employer's negligence is a factor. In some states, it is possible for the family to file a lawsuit against the employer if it is determined that the employer committed gross negligence. In Georgia, you could not file a lawsuit against an employer even if they were grossly negligent. It is more likely than not that this worker's claim will be routed through workers' compensation.
Death benefits in Georgia 
Death benefits in Georgia cover three expenses. Firstly, funerals cost up to $7,500. Second, they cover any medical costs related to the attempt to save the worker's life. Lastly, families can receive a weekly stipend of no more than $675 a week. Spouses can receive payments for up to 400 weeks while children are generally covered until they are 18. Disabled children may be able to receive benefits indefinitely.
Insurers sometimes attempt to defeat claims by claiming that the workers' conduct was outside the scope of their employment when the accident occurred. Since the worker became trapped in a machine, it will be hard for the insurer to make that claim.
Talk to a Decatur, GA Workers' Compensation Attorney Today 
The O'Connell Law Firm files death benefit and workers' compensation cases with the employers of deceased or injured workers. Call our Decatur workers' compensation lawyers today to discuss your claim and we can help you get your benefits promptly.
Source:
leadertelegram.com/news/front-page/osha-fines-eau-claire-factory-after-worker-death/article_93b6ef8f-d510-5cdb-b00c-7d9bb6437ae5.html