Man Sentenced To Prison For Workers' Comp Fraud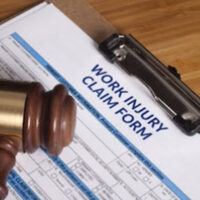 A Massachusetts man is headed to federal prison for the next 18 months for an elaborate scheme to defraud the workers' compensation system as well as the federal government. According to prosecutors, the defendant set up a shell company with no employees where he falsified information to acquire workers' compensation insurance for a construction company that only existed on paper.
The defendant established his shell company with a minimum number of employees and acquired compensation for his fictional employees. He then "rented" the insurance coverage to subcontractors who then could supply proof to Florida authorities that he provided workers' compensation to his employees. This falsely represented the fact that the defendant had employees working for his company. Contractors working for the company issued payroll checks to the shell company which cashed the checks, took 6%, and then distributed the earnings to the contractors. As part of the scheme, the company was able to avoid paying payroll taxes, income tax, social security, and whatever else.
By hiding payroll, the company was able to avoid paying higher costs related to workers' compensation which is usually calculated as a percentage of overall payroll. He paid more than $700,000 less than he should have under the law.
Elements of the law 
Employee classification as an independent contractor is one way that employers avoid their responsibilities to their employees. In this case, the "independent contractors", who were actually employees under the law, were rented workers' compensation certificates while they were on the job. However, the total overall coverage was for a payroll of $91,000 when the company's payroll was actually over $4 million. The misclassification of employees, however, is generally not a criminal offense. It results in lawsuits filed by employees against employers for overtime, backpay, and other benefits they would have received as an actual employee that independent contractors do not enjoy.
What was illegal was the reporting of misinformation to the federal government to avoid obligations that employers have to their employees. The defendant was forced to forfeit bank accounts related to the fraud and repay the IRS money owed. He will further be required to pay the insurer he defrauded $41,000 in compensation.
Independent contractor misclassification 
Independent contractors in Georgia are not eligible for compensation. However, they can sue the company for whom they are doing work so long as they can prove negligence. The distinction between employee and contractor is extremely important under the law, so defining which is which becomes paramount. Employers have a substantial amount of power over employees that include how a project is finished, supplying the tools for employees, and dictating when the employee must show for work. Contractors, on the other hand, have more freedom, but fewer benefits.
Talk to a Decatur, GA Workers' Compensation Attorney 
The O'Connell Law Firm helps injured workers in Georgia litigate disputes against unwilling insurance companies. If your employer's insurer refuses to pay up, call our Decatur workers' compensation lawyers today to learn more about how we can help.
Resource:
insurancejournal.com/news/east/2021/07/09/622003.htm