Sedgwick And FedEx Ground Workers' Compensation Claims In Georgia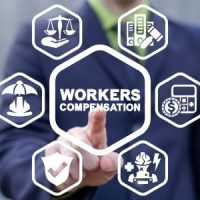 If you recently suffered an injury while working for FedEx Ground in the metro Atlanta area, you may have received a phone call or an email from someone at a company called Sedgwick. If you are wondering why you are getting a call from a company that you never heard of, with an address in Lexington, Kentucky, hopefully this blog post will answer some of your questions.
First, let's start with FedEx Ground. It is one of the biggest package delivery companies in the world, and their delivery trucks are a familiar site to anyone who is out and about in the metro Atlanta area. Before those trucks head out to make their deliveries, however, they depart from one of the FedEx Ground buildings scattered around the Atlanta area.  Below is a list of some of FedEx Ground's important Atlanta facility locations:
Ellenwood:       4665 South Park Boulevard Ellenwood, Georgia 30294
3120 Anvil Block Rd, Ellenwood, Georgia 30294
Braselton:        650 Braselton Pkwy, Braselton, Georgia 30517
Kennesaw:      1675 Airport Rd NW, Kennesaw, Georgia 30144
If you are a FedEx Ground employee and you are injured while working for one of these facilities, you are entitled to medical treatment pursuant to the Georgia workers' compensation act. Under Georgia law, FedEx will have to pay 100% of the medical costs related to your work injury. FedEx may also have to pay you weekly income benefits if your injury prevents you from being able to return to work. You may be entitled to income benefits even if your workers' compensation doctor says that you can work "light duty." If FedEx cannot find you a light duty job within your doctors' restrictions, then you will be entitled to income benefits once you have had to stay home for longer than seven days because of your injuries and restrictions.
Anytime an injury occurs on the job in Georgia, an employer is supposed to report the injury to its insurance company. The insurance company then takes care of paying the injured worker's medical and income benefits. However, some companies, like FedEx, are so big that they don't have to purchase insurance from an outside company. Rather, they insure themselves. This means that FedEx pays any workers' compensations benefits which become due out of its own funds. FedEx Ground has a special office for its workers' compensation claims in Moon Township, Pennsylvania. While this office in Pennsylvania presumably handles the financial costs of all the workers' compensation injuries that occur at its facilities across the country, it farms out the day to day management of those claims to a third party.
The third party that manages the Georgia FedEx Ground workers' compensation claims is called Sedgwick:
Sedgwick
P.O. Box 14841
Lexington, Kentucky 40512-4841
Sedgwick has a team of "claims adjusters" who do the actual management of the claims. They are the people who schedule and authorize medical appointments on an injured worker's behalf. If income benefits become due, it Is the claims adjuster's job to determine what rate the income benefit should be paid at, and to make sure that the check is delivered.
So, if you have been injured working for FedEx Ground in the Atlanta area, whether you were in Ellenwood, Braselton, Kennesaw, or somewhere else, you should expect to be contacted by a claims adjuster at Sedgwick. When you are contacted, there are several things you should be aware of.
First, FedEx Ground has what's called a panel of physicians. You will need to choose the doctor that you treat with from this list. That doctor then becomes your "authorized treating physician."  The authorized treating physician will diagnose your injury. He or she will also be able to prescribe medications, order diagnostic tests like X-Rays or MRIs, and also make referrals to other physician specialists. Perhaps most importantly, the authorized treating physician also assigns you a "work status." This work status will determine whether you go back to work or whether you stay home and recover from your injuries.
If the doctor places you on a no-work status you will not have to return to work. Then, once seven days have passed, you will be entitled to income benefits.
If the doctor says that you can return to work without restrictions, you are not entitled to income benefits. However, you are still entitled to more medical treatment. If your injuries are still bothering you, you can request to return to the doctor, or even to change doctors, even though you have been given a "full duty" release. The doctor may also assign a work status that is somewhere in between "full duty" and "no work." This third work status is called "light duty," or "modified duty." Essentially, If the doctor assigns any kind of restrictions on the type of work you can perform, then he has given you "light duty" restrictions. These restrictions can be anything from limiting how much weight you can lift to how long you can sit or stand, to whether or not you can drive.
If the doctor gives you any type of restriction, then the next question becomes whether or not FedEx can accommodate those restrictions. For instance, if the doctor says that you cannot drive, but FedEx does not have any non-driving jobs to offer you, then this is the effective equivalent of being put on a no-work status by the doctor. Once seven days go by and you have not been able to return to work because of your restrictions, you will then become entitled to workers' compensation income benefits.
Because the doctor has the ability to determine whether you will have to return to work or will be able to stay at home and recover, the doctor has a tremendous effect on the outcome of a Georgia workers' compensation claim, especially when a claim happens to someone who works at a place like FedEx, where jobs are often quite physically demanding.
Typically, FedEx's panel of physicians includes urgent care clinics, like Concentra and Caduceus, as well as Orthopedic specialists. Resurgens Orthopaedics usually has doctors that are listed on FedEx's panel of physicians. Peachtree Orthopedics is also usually featured on FedEx's panel of physicians. There may also be one or more neurologists listed on the panel.
Once you choose a doctor from the panel, you are typically only allowed to make one change of doctors. To make a second change of doctors would require you to petition one of the judges at the Georgia State Board of Workers' Compensation.
If FedEx or Sedgwick has contacted you following an injury and asked you to make a choice from the panel list of physicians, you will want to do your research before making a choice. As outlined above the doctor you choose will have a great influence on the course of your medical treatment, and even on whether or not you become entitled to income benefits in your workers' compensation claim.
If you have been hurt on the job while working for FedEx Ground, and have been contacted by someone at Sedgwick regarding you claim, you may have questions about how to proceed. If so, it is in your best interest to contact an attorney for a free consultation.
At the O'Connell Law Firm we have represented many men and women who have suffered injuries working for FedEx Ground. Many FedEx workers have called us because they needed to choose a doctor and wanted to make sure they chose a good one. Other have called because they had already started treating but needed help getting a diagnostic test or physical therapy approved. Still others have called us because they needed help getting their income benefits commenced, or wanted to make sure that the amount of their income benefits was correct. We have helped our clients navigate all of these issues, and many more as well.
If you have a question about your Georgia workers' compensation claim with FedEx or Sedgwick call us today at 404-410-0034 for your free consultation.