7 Common Workplace Injuries In The Supply Chain Industry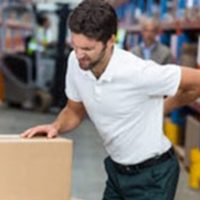 The simple truth is that Georgians would not be able to live the way that we do now without Georgia's valuable and hard-working supply chain workers. Those that work in the supply chain industry are responsible for producing the goods that we need for everyday living and more, and supplying them in a constant flow by delivering them to our homes, retail stores, and super malls. Indeed, without the tens of thousands of workers that work to keep the supply chain going, we would not have easy access to even basic items such as food, household goods, tools, and clothes, and we would have a difficult time getting our hands on the luxury items we crave, such as electronics, vehicles, and jewelry. However, the supply chain industry is one that is filled with a variety of hazards that workers must face every day on the job.
In order to spread awareness about workplace injuries in the supply chain industry, supply chain industry media outlet Global Trade Magazine has compiled the top seven most common workplace injuries that supply chain workers experience. Those injuries include:
Slips, Trips and Falls. Slips, trips, and falls comprise the most common workplace injuries in the supply chain industry, with 18% of all non-fatal workplace injuries being caused by a slip, trip or fall. In the supply chain industry, slips, trips and falls are particularly common due to the warehouse environment, where workers may traverse platforms and mezzanines at varying levels, and where there can be slippery or wet floors, active forklifts, and objects falling or causing tripping hazards.
Workers Getting Caught Between Objects: When dealing with many moving parts and objects, often at high speeds, workers can get seriously injured if they become stuck between two objects. This may happen when workers try to move heavy objects and trap their hands or other body parts, or when fingers get caught in machinery or tools.
Workers Being Hit by Moving Objects: Supply chain work often involves heavy moving machinery, such as forklifts, trucks, and cranes. Supply chain workers may be hit by a crane arm or a passing forklift in a warehouse, or may even be hit by a truck that is loading or unloading. These injuries can be very serious and life-threatening.
Workers Carrying and Lifting Heavy Loads: In supply chain work, workers often lift heavy objects every day, which can lead to muscle injuries, broken bones, and back problems. Without the proper equipment and training, injuries caused by lifting an extremely heavy load improperly can result in a very serious injury.
Injuries Caused by Repetitive Strain: Repetitive strain injuries occur when a worker does the same movement too much for too long. These injuries can be especially tricky because the onset may be slow, but the treatment can take a very long time.
Workers Injured by Forklifts: In addition to being hit by a forklift, workers can be seriously injured if they flip a forklift over while operating it, or are hit while reversing a forklift.
Workers Being Exposed to Toxic Chemicals: Warehouses may contain chemicals that can lead to both immediate chemical burns and exposure-related illnesses that develop over time. Both of these supply chain industry injuries can result in death or may require long-term and intensive treatment.
It is clear that there are many hazards that supply chain industry employees must be aware of on the job. However, even the most careful and diligent worker can be the victim of a serious workplace injury. If you have been involved in a workplace accident in Decatur and you have been seriously injured to the point that you cannot work, it is important to learn about your legal rights and options. The experienced Decatur workers' compensation lawyers at the O'Connell Law Firm are here to listen to your case and to see if they can help. Contact the O'Connell Law Firm today for a free and confidential consultation with a Decatur lawyer.
Source:
globaltrademag.com/avoiding-7-workplace-injuries-common-to-the-supply-chain/