I Caused A Car Accident While On The Job, Now What?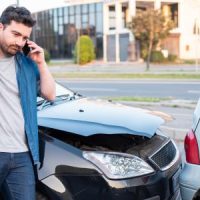 This is a complicated question because it has a number of "ifs" associated with it. For the purposes of this article, we will assume that you are an employee of a company who was on the job when the accident occurred and that you are at fault for the accident. Uber and Lyft drivers are generally not considered employees in Georgia, they are considered contractors. In terms of contractors, their only remedy would be their own insurance policy. In terms of workers who are actual employees of a company, you would be entitled to recover workers' compensation regardless of whether or not you were at fault for the accident.
Understanding the 'no-fault' system 
Workers' compensation is a no-fault system. That means regardless of whether or not your employer is at fault or you are at fault for your own injury, you are entitled to file a workers' compensation claim. Your employer can fight the claim, but not on the grounds of fault. Although employers in Georgia have affirmative defense for certain types of fault (such as drunkenness) accidental injuries that occur on the job will be compensable even if you are to blame.
Understanding traffic torts in the State of Georgia 
While you are covered by your employer's workers' compensation insurance policy, the other driver in the accident is not. They may attempt to file a lawsuit against you and your employer under the grounds of vicarious liability. This creates a situation where the employer must both pay the claim related to their own employee's injury and the injury and property damage claim related to the other driver if they are injured in the crash.
In other words, this creates a situation of double liability. Not only is the employer responsible for the employee's injuries, they are also responsible for the injuries that their employee caused. So, obviously, employers don't want to be out that much money related to one employee who negligently operated a company vehicle while on the job.
Uber, Lyft, and Rideshare drivers 
Rideshare companies have faced pressure in states like California to designate their independent contractors as employees. While that is not the case in Georgia, Uber and Lyft do sometimes offer drivers an insurance policy to cover medical expenses and lost wages if they are injured while logged into the app. While the system doesn't work under Georgia's workers' compensation rules, it works similarly to those rules. We do not handle those types of claims.
What if the other driver is at fault? 
If the other driver is at fault and you are on the job, then you can file both a workers' compensation claim with your employer and a personal injury lawsuit against the negligent driver. In that case, the workers' compensation insurer may sue to recover some of the personal injury settlement.  However, the workers' compensation insurer's subrogation lien (their right to recover some of the money from the personal injury lawsuit), but the workers' compensation insurer's subrogation lien is subject to the "made whole" doctrine, which is very difficult for them to prove under Georgia law.
Talk to a Georgia Workers' Compensation Attorney Today 
If you have been injured while on the job due to the negligence of a third party, you may be entitled to file both a workers' compensation claim and a third party injury lawsuit. The O'Connell Law Firm represents Georgia workers in workers' compensation claims. Call our Decatur workers' compensation lawyers today to schedule a free consultation and we can discuss your next moves immediately.