My Employer Is Requiring Me To Get The COVID Vaccine! Is That Legal?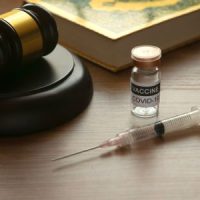 There's a lot of fear and uncertainty surrounding the two vaccines that have been made available to the public for the purposes of immunizing Americans against COVID-19. Some folks are taking it gladly because they want their lives to return to normal. Others are fearful of the potential side effects of the vaccine or have even been told by their doctors that they should avoid it. So what happens when a company requires all their employers to get the vaccine or else? Unfortunately, employers have the right to do that. However, employees may be able to file claims on their employer's workers' compensation policy if they are injured by the vaccine.
Is the vaccine safe? 
By and large, the vast majority of people who have taken the vaccine have not been injured. In a small number of cases, the vaccine has resulted in blood clots that could be fatal if not treated quickly and immediately. Those who are required by their employers to get the vaccine cannot be required to take the vaccine against their doctor's advice. This would be a violation of their civil rights under the Americans with Disabilities Act. Their employer would be required to waive that requirement under the "reasonable accommodations" language of the ADA. So, you could probably get out of the vaccine with a doctor's note.
What if you can't get a doctor's note, however? What if your employer requires you to take the vaccine to return to work, but you are one of the .001% who has a serious negative reaction? Well, you might be able to file a claim against your employer's workers' compensation policy because the vaccine was a requirement of your job.
Where does this matter? 
To be sure, most employers are not mandating that employees get the vaccine. However, health care employees are being expected to get the vaccine, prove that they've been vaccinated, or face losing their job. Is this legal? It is legal so long as it doesn't violate provisions set forth by the ADA. Many health care facilities do have vaccine requirements and these facilities are paying out claims when their workers suffer side effects of the vaccine. These side effects can range from mild flu-like symptoms to medical emergencies, but the former are much more likely. Hence, the claims aren't very large and the workers' comp insurers have been honoring vaccine-related claims. On the other hand, employers, fearful of workers' comp claims, may opt-out of requiring employees to get the vaccine. Employers would be expected to report any vaccine-related comp claims to OSHA.
OSHA, for its part, has always stated that employers are responsible for any foreseeable injuries that occur as a result of their requirements. While the application of this policy may be novel for a pandemic, the same rules are being followed. Hence, employees required to take the vaccine will have their comp claims honored.
Talk to a Decatur, GA Workers' Compensation Attorney 
If you need help getting your employer's workers' comp insurer to pay out, call the Decatur workers' compensation attorneys at O'Connell Law Firm today, and we can begin the process of litigation.
Resource:
businessinsurance.com/article/20210505/NEWS08/912341626/Mandatory-vaccinations-can-lead-to-comp-claims,-OSHA-recordables