OSHA Files Criminal Charges After Worker Dies In Machine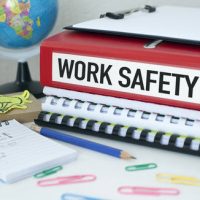 The Justice Department has announced criminal charges against an Alabama company after an OSHA investigation uncovered violations that lead to the worker's untimely death. According to the announcement, a worker was pulled into a machine with a cluster of unguarded rollers and died as a result of his injuries.
The plant fabricates plastic sheets for industrial purposes. The rollers pull the plastic through large clusters of spinning rollers. The machine had a metal barrier that would protect the operator from "pinch points" and a kill switch that would kick in under the right circumstances. In this case, the company instructed workers to work without the metal guard up which resulted in a preventable death. The violation was considered "willful" by OSHA as it is an obvious violation of their regulations concerning dangerous machinery. Additionally, the automatic mechanism that would have stopped the rollers was unused. Workers were cutting the plastic sheeting while the rollers were still in motion, reaching into the danger zone.
In this case, workers suffered numerous prior injuries and yet the company did not take any measures to fix the problem. Now, with a worker dead, OSHA will force them back into compliance, their company will be added to the Severe Violators Enforcement Program (SVEP), and the company will be charged with a crime, punishable by a fine.
OSHA Crimes 
OSHA doesn't have a lot of clout when it comes to charging companies with crimes. The only crime available to charge a company with is a class-b misdemeanor. You can be charged with this crime if a willful violation of an OSHA regulation results in the death of a worker. In this case, the company itself has been charged with a class-b misdemeanor. It is unlikely that the fine resulting from the criminal prosecution will bankrupt the company, but OSHA will add their name to a growing list of employers who have caused death or serious injury to multiple employees.
The biggest issue is that the company ended up causing the injury of several workers prior to the incident causing death. In cases like these, OSHA keeps track of workplace injuries and usually issues citations to companies that cause injury after violating OSHA regulations. However, it's unclear if that ever happened. All we know is that the workers were continuing to use the machines without the safety guard in place and without an operation kill switch.
Employees don't want to gripe about conditions that their fellow employees are forced to labor under and often do not report OSHA violations even when injuries occur for fear of losing their job. So, if an employer tells a worker to violate an OSHA regulation, the employee will generally do it.
Talk to a Decatur, GA Workers' Compensation Attorney Today
 Injured at work? Call the Decatur workers' compensation attorneys at The O'Connell Law Firm today to schedule a free consultation and discuss your situation in greater detail.
Source:
justice.gov/opa/pr/alabama-company-charged-worker-death-case