Will COVID-19 Liability Shields Impact Your Workers' Comp Claim?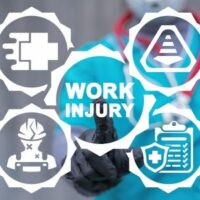 Over the past year, we've seen a lot of lawsuits. Businesses are filing lawsuits against their insurers. Insurers are filing lawsuits against businesses. Citizens are filing lawsuits against both their insurers and businesses. Workers are filing lawsuits against their companies.
As a result, several states have seen fit to enact COVID-19 liability shields that prevent those who contract the illness elsewhere from filing a lawsuit against the place of exposure. While this makes a lot of sense in terms of restaurants, nursing homes are also included in the new legislation after having contributed more deaths to the pandemic than all other industries combined.
Elsewhere, workers who are exposed to the virus while on the job (yes, even health care workers) are having workers' compensation claims denied because they can't prove where they got the virus from. The new COVID-19 liability protection passed in Georgia and extended through next year may prevent them from litigating their claims with insurers.
Now what? 
Georgia recently announced that they would be extending COVID liability protections to businesses throughout 2021. However, the vast majority of COVID-19 lawsuits have been filed either against nursing homes or employers. In the latter case, employers were accused of failing to integrate pandemic-safety protocols that led to the deaths of employees. In other cases, employees missed substantial time from work due to COVID infection.
Workers' compensation insurers began summarily denying these claims because, even in cases where the worker was a health care employee, they couldn't "prove" to medical certainty that they contracted the virus at work. This allowed insurers to dig into the daily living of the workers' comp applicants to determine what other possible vector could account for their illness. Since there is always going to be another possibility, no matter how improbable, that left workers trying to "prove" they got the virus at work.
Some states have enacted a secondary protection for workers forcing workers' comp insurers to assume the validity of claims relating to COVID. This allowed workers to get the compensation they needed while simultaneously preventing costly litigation that seems to be a major concern of tort reformists.
Are COVID-19 liability shields legal? 
They have yet to be tested in the courts, but there will be at least some who claim that a liability shield unfairly impacts and endangers older Americans. Since nursing homes contributed so many deaths to the toll, the legislation would target a demographic that is protected under Title VII of the Civil Rights Act. So a claim could be made that the laws unfairly target elderly Americans and are thus a violation of the Equal Protection Clause. We will have to wait and see.
Talk to a Decatur, GA Workers' Compensation Attorney 
If your employer's insurance company denies your workers' compensation claim, call the Decatur workers' compensation attorneys at O'Connell Law right away and we can begin the process of forcing the insurer to pay up.
Resource:
riskandinsurance.com/the-risks-lurking-in-the-gap-between-workers-comp-and-virus-liability-shield-laws/