Woman Arrested For Defrauding Workers' Compensation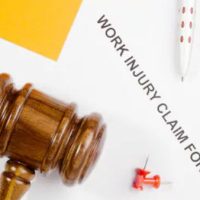 Before we discuss the potential criminal aspect of this case, it's important to understand what you will be facing as an individual who is receiving total temporary disability benefits. Total temporary disability benefits (TTD) are paid in cases where you are totally unable to work for a temporary period of time. TTD benefits are two-thirds of your average weekly wage. Because the amount of money is so high, the insurer does not want to pay it. However, Georgia law requires that they pay the benefits and then, if the claim turns out to be fraudulent, they can go after the claimant later.
How do they "go after" the claimant? Well, they send private detectives to follow you around with cameras so, if they catch you doing something you claim you cannot do, they can raise the allegation of fraud against you, force you to repay the money that was fraudulently acquired, and put you behind bars.
In this case, the insurance company detectives have video of the woman doing things she claimed she could not do.
What happened? 
The woman, who was working aboard a school bus when the injury occurred, claimed she hurt her ankle when attempting to leave the bus. She applied for, and received TTD benefits. However, workers' compensation insurers caught up with her and have a video of her apparently doing things that she claimed she could not do.
It is not illegal or even uncommon for workers' comp insurers to dispute TTD claims. You should expect that if you are receiving a large sum of money over more than a few months, that the insurance company will make some sort of attempt to do this. Even in cases where your claim is valid, a small video clip taken out of context can create the illusion that you are defrauding the insurer. We don't know what happened in this case, but the workers' compensation board is prosecuting a case based solely on the word and evidence provided to them by the workers' comp insurer.
Now what? 
The state will need to prove that the allegations made by the workers' compensation insurer are legitimate. While specific images taken out of context can be damning, they aren't as damning as you might think. The private detective isn't the only one who has surveillance of you. If the total picture of their allegations does not add up, the image or video may do less argumentative work than they believe. The insurer has every incentive to place every case they see before the workers' compensation board for prosecution. That doesn't mean that their allegations are meritorious. Having a workers' compensation attorney protect your claim can avoid many of the pitfalls thrown at you by insurers.
Talk to a Decatur, GA Workers' Compensation Attorney 
If an insurance company is fighting your claim or attempting to allege you defrauded them based on specious video evidence, then you will need a Decatur workers' compensation attorney to protect your claim and advocate on your behalf. Call O'Connell Law Firm today to schedule a free consultation and learn more about how we can help.
Resource:
insurancejournal.com/news/east/2021/09/16/632161.htm